"I commissioned Optio for primary research and challenging special projects ranging from competitive intelligence to orphan drug titration packaging. In all challenges I presented to them, they succeeded and delivered unique and actionable insights." Director of Global Market Research – Large Pharma
Optio Biopharma Solutions, LLC – founded in 2007
While the majority of biopharma companies are staffed to a level capable of providing comprehensive corporate strategy and vision, the ever increasing project workload and operational scope required for success can be daunting.
Optio Biopharma Solutions specializes in providing biopharmaceutical companies with comprehensively experienced marketing and strategic commercial support – a supplementary on-demand proficiency or "right hand" to you and your team.  Optio can provide additional strategic insight, operational expertise, or implement tactics.
Former and current clients include:
InterMune, Genitope, Zogenix Inc., Enobia, Anthera Pharmaceuticals, NeuroSearch A/S, Harvard Business School, MLV & Co., BioMarin Pharmaceuticals, Omeros Corporation, Acadia Pharmaceuticals, Teva Pharmaceuticals (non-generic neurodegenerative disease therapies), Theravance Inc., Giant Creative Strategies, LLC, iib Partner AB, Immunicum AB, Accera Pharmaceuticals, MEDRx, Huntington Study Group and others.
Optio has worked pro bono for the Coalition for Pulmonary Fibrosis, and the Rotberg and Viau FDA Huntington's disease patient perspective project with the FDA.
Optio has conducted market research work in the USA, Europe, Canada, Brazil, Australia, and has capabilities throughout Latin America and in Russia and Turkey.
Customization
Optio provides bespoke solutions when common large vendor "off the shelf" approaches are a poor fit.
Creativity
Optio finds innovative and effective methodologies to address difficult market research questions.
Resourcefulness
Optio specializes in "detective" work required for rare disease markets and competitive intelligence.
Drive
Optio is known for delivering quality results under challenging circumstances. We make it happen.
Experience
Every Optio member is highly experienced. There is no hand-off to junior staffers after the pitch.
Strategic Focus
Highly experienced researchers often capture valuable strategic insights – even during "tactical" projects.
Unique service offerings
Optio has conducted market research involving nearly every type of stakeholder in the pharmaceutical market: physicians, payers, patients, caregivers, advocacy leadership, pharmacists, and social workers. We specialize in difficult and unique projects where an "off-the-shelf" standardized approach would be sub-optimal. Most of our work has been on behalf of companies developing or commercializing rare disease therapies.
Optio Biopharma Solutions can also provide clients a winning strategic process adapted to small company situations.  We apply a classical, disciplined, and stepwise strategic marketing process archetypical of "large pharma" – no applicable strategic component is discounted.  The process is tempered for small companies by taking a qualitative approach where necessary.  While the process may not be bolstered with extensive quantitative resources (e.g. complete prescriber data, statistically robust customer segmentation, "forecast grade" product attribute testing, etc.) it is reinforced with practical experience.  The Optio process eliminates many "blind spots" for small companies.  While limited resources may prevent some gaps from being fully addressed; their identification prevents them from becoming pitfalls.
While we have assisted companies with valuable support of in-line products with large markets, much of our work has been with ultra-orphan and orphan drugs.  We feel we are especially suited to offer assistance in enhancing orphan drug commercial strategy and developing such unique and close-knit markets. Optio has successfully conducted qualitative and quantitative primary research in orphan drug markets which required innovative methods to recruit qualified but difficult to find respondents.
Optio offers uncommon expertise in bridging commercial  strategy with orphan specialty pharmacy distribution planning. Many consultancies possess technically focused experience in building distribution networks or can offer backgrounds in commercial and marketing strategy; facility in both areas is rare.  This unique capacity can successfully align specialty pharmacy distribution network operations with corporate commercial strategy thereby enhancing both the patient and caregiver product experience.
Optio also possesses experience in personalized medicine commercial strategy and logistics.
Optio research and anonymity policy
Optio privacy and anonymity policy: unless otherwise stated, all interviews and project participation by patients, healthcare professionals, payers, and payer experts remain anonymous to the client and clients remain anonymous to research respondents. All information gathered in our projects is administered internally on a strict need-to-know basis only by those actually conducting the analysis and writing the reports.
Optio does sometimes conduct research where clients may participate or listen in to gather insights more directly. It is usually clinicians who participate in this type of research and these conditions are communicated upfront.
We do not request and definitely do not want any identifying healthcare information such as birthdates, medical record numbers, insurance data, etc.!
Unless otherwise stated upfront, we generally do not want to discuss details regarding side effects associated with specific medications  during interviews unless it is important to your perspective. That said, if a patient reports a side effect associated with a specific medication we are obligated to provide a report to our sponsor or FDA. Since feedback is anonymous to the client for most of our physician research, and nearly all of our patient research, we will honor your anonymity regarding any such side effect report if you do not wish to provide your contact details. In such a case, we will complete an anonymous report on your behalf.
Participants in our research are usually paid an honorarium. We do need just enough information to send you your honorarium check. We never sell, share, or otherwise provide your mailing or other contact information to other organizations or persons nor do we share your email address.
Market research and competitive intelligence (CI): Optio abides by professional market research and CI standards for the United States and Europe. Optio abides by all local laws in the conduct of competitive intelligence.
Our name
Optio centurionis : 'chosen man of the centurion'
Optio's name is derived from our mission. We help pharma companies build and win through a multitude of commercial challenges.
In business, military analogies and metaphors come a close second to those from the sports world – and everyone has heard the expression, "business is war."  Among all the business sectors of the world, if this dramatic metaphor suited any, it would be small pharma/biopharma.  The succeed-or-fail aspect of drug development combined with the typical start-up/small company challenges of corporate financing, lean staffing, and tight timelines has a fitting parallel in the winner-take-all battles of ancient warfare.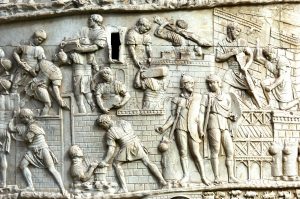 While one must acknowledge the methods used by the Roman Empire to conquer and rule almost every Mediterranean and Western European civilization have absolutely no place in the Modern Age – the Empire's strategic commitment, logistical innovation, organization, and training combined with engineering know-how made Rome the master of warfare in the ancient age. The legions were not only fighters, they were also builders of roads, aqueducts, and other structures which have endured for thousands of years.  Early in the development of the Roman Legions the pressures of empire helped forge the position of Optio – the "right hand" of the Centurion.  The Optio orchestrated logistics, combat support, training and managed construction and infrastructure projects – whatever was required to achieve success for the Centurion.
Unique market challenges are common with innovative therapeutics, especially with rare diseases. Optio has a creative and proven "whatever it takes" approach to  designing successful solutions to unique market challenges. Your success is our mission.
It is in this spirit of providing the best support in a tough and dynamic business environment that Optio Biopharma Solutions is named.
Optio Biopharma Solutions  – your "right hand" for challenging business objectives and meaningful success.
Optio Biopharma Solutions, LLC – all rights reserved.
A veteran-owned small business.